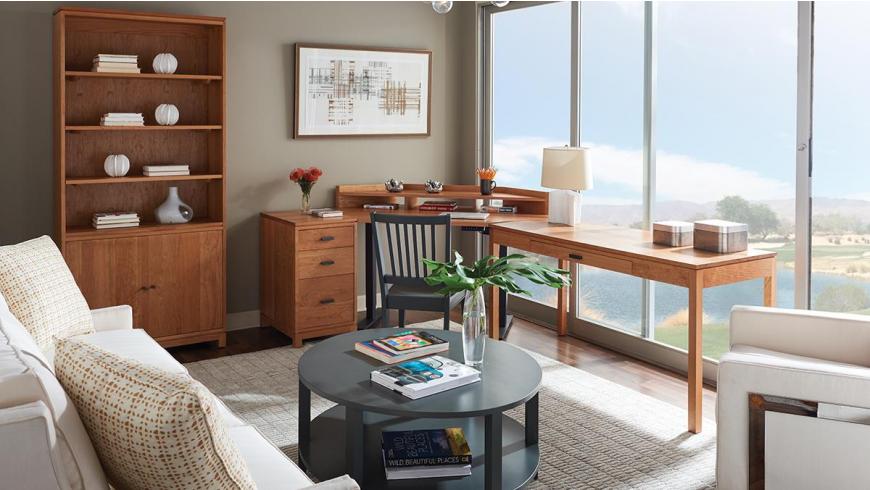 How Better Furniture Can Make Work From Home Work For You
If you're among the millions who are new to working from home, you're probably dealing with some unfamiliar and, perhaps, frustrating feelings. There's a reason for that. Our brains have a "work" setting and a "home" setting.
At work we are conditioned for structure. We are focused on tasks, alert to coworkers and bosses, roles and responsibilities, proper language and behaviors. Home is, well, not that rigid. Our brains aren't exactly sure how to process the new workplace. For newcomers to WFH, difficulty concentrating is common. So is procrastination. Why take on that unpleasant task when the refrigerator is right there? And the TV? And the dog who needs petting? Experts tell us there are ways to minimize the power of distractions and a well-appointed, organized workspace tops the list.
Are you one of the fortunate ones with a room you can dedicate as a home office or must you share a room that is regularly used for other activities? Either way, solutions abound. Start with the desk. Back in the day dad might have opted for a massive carved oak testament to his position and title at his company. Cleaner lines, modern spirit, flexibility and fun are more in line with today's tastes. Scale it up if you have a dedicated room as a home office, scale it down if you're sharing space.
Speaking of sharing a room, corner desks have proven a terrific option for the space-challenged, especially when you complement the desk with useful complements that create a flexible and modular system. Designers have termed this approach "bunching," and it's a cool way to keep your new world organized with no wasted space, endless ways to manage clutter (a real enemy of productivity) and keep your energy focused on work.
Maintaining energy is a real issue when you don't have to get out of your pajamas to go to work. Studies confirm standing is better for posture and circulation than sitting which means lift desks are a popular choice. With today's options you can program the height and position for your work and program another setting for other uses or for other workers in your household. Press a button and, voila, your desk adapts to your liking.
Adaptation and customization are compelling reasons to create your WFH space with an American manufacturer. Off-shored furniture is already made, already sitting in a warehouse and demands that you adapt to it rather than it fitting your needs, tastes and environment. Create the space that works for you. After all, when you're working from home, you're the boss.
Ready to give yourself a bonus? We've prepared a digital catalog of our customer's most imaginative uses of the Oxford system and customizations. Click here to access the Oxford Office electronic catalog.