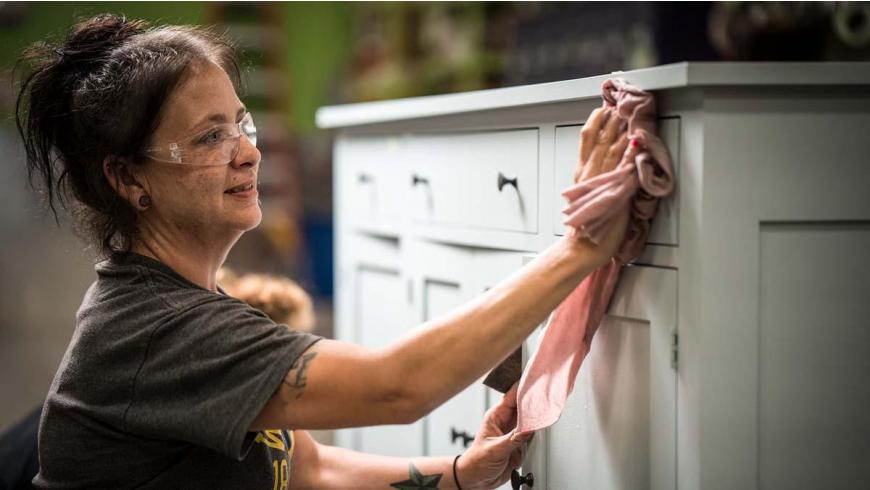 Seven Things You Should Know About Painted Furniture
Painted furniture can make a bold statement, a subtle punctuation, or anything in between. At Gat Creek, we've stirred up a luxurious, varied palette of cool-hued options to facilitate this self-expression. Here's some good information to have as you consider your choices: 
1. We offer 19 classic paint colors which periodically change in response to market trends. We go straight from the can without any additives or distressing and apply several coats to achieve a crisp, silky result.
2. Have a paint chip? We'll match it, return a proof and, when approved, complete your order. We only match chips and will not accept color numbers from a fan. 
3. We are one of only a few manufacturers that offer hand-glazed paint finishes. This complex process begins with a hand-applied base coat followed by a gray, black or brown glaze to achieve the desired color value. "This look is cool because it gives texture back to the finish," said Gat Caperton. "It's not a flat wall of color like classic paint and not a rub-through. It's very contemporary, not many people do it because it's difficult, and we have gotten very good at it."
4. We offer 16 hand-glazed paint options and they, too, periodically change according to consumer trends. We do not offer custom hand-glazed paint colors. The development process is simply too long. 
5. We are mad scientists about formulating our paint colors to complement our stain finishes. Mixing paint finishes with wood tones in a room is a popular form of expressing one's unique design aesthetic.
6. Classic or hand-glazed, all paint finishes are protected with our catalyzed lacquer top coat to manage the moisture exchange between the piece and the surrounding air. 
7. We choose solid maple for all of our painted products. "Others may hide ugly or cheaper woods underneath their paint. Poplar is a common choice, for instance, but it tends to warp," Gat said. "We choose maple for a couple of very important reasons. It's stable, durable and strong. Most important is that paint tends to magnify any imperfection in the wood like indentations and puck marks. Among hardwoods, maple is consistently smooth so the paint finish looks flawless."  
For the many ways that paint offers unique and signature looks, you can count us as fans.