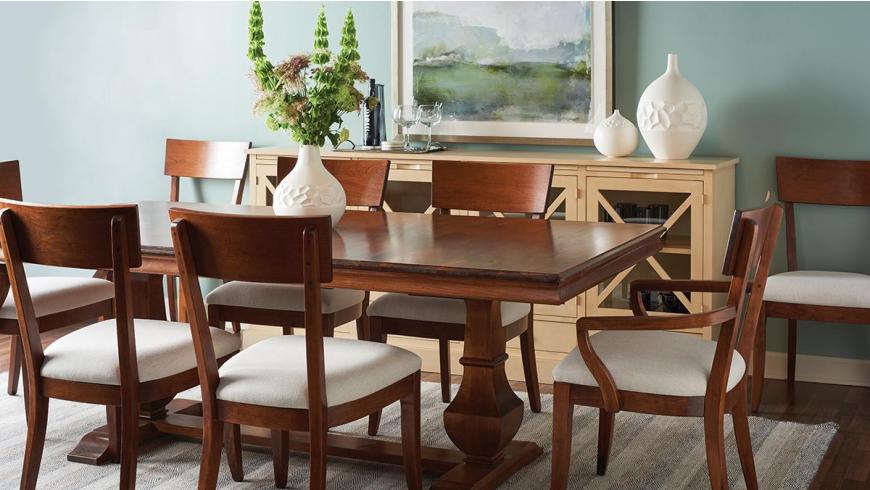 Itching For Scratch-Free Furniture? We Need To Talk.
It seems there are two kinds of people in the world when it comes to owning beautifully made furniture. Those who want it to forever look like it just arrived from the workshop, and the rest of us.
We're only slightly kidding. The truth is that all things in life will show wear and tear when used — leather goods, household appliances, even a diamond can be scratched by another diamond. But when we're talking about your new Gat Creek dining table we know that seeing the first little scratch can be stressful.
To ease the disappointment, it helps to understand finishing. At Gat Creek our philosophy is we want to protect the wood with as little material as possible. "Too often furniture looks like it was wrapped in a coat of plastic," said Gat Caperton. "That's not our style. We want something that looks close to the wood and still be furniture you can live with. That doesn't mean museum quality for decades, but durable, good-looking and that lasts."
The finish on your Gat Creek furniture consists of a color and a clear top coat for protection. More than anything, that top coat is there to control the constant ambient moisture exchange between the air and the wood. In commercial furniture the thickness of that top coat can be anywhere from 3 millimeters to 8 millimeters or more. Our catalyzed lacquer top coat is a very clear film that is on the thinner range of the scale. Most importantly, it is chemically strong and stays strong for a long time. In our view, it offers the best balance of furniture finish attributes.
Can the best be scratched? Of course. Something as innocent as sliding a book or board game across a table can slightly mar a finish. Scooting a heavy vase or serving dish can leave a scratch that is particularly visible on darker finishes or in harsh lighting. Think of it this way, over time, the story of your family will etch itself in your furniture. But you can still take some common sense steps to minimize the evidence. 
Choose lighter finishes; they show less wear.

Busier grains like ash can camouflage wear.

Don't scoot any item over the surface; pick up and place.

Use coasters under drinkware, pads under serving dishes, felt pads under lamps and pottery.
And remember that you made the wise choice to invest in Gat Creek solid wood furniture which offers you options furniture made of lesser material and veneers simply can't. "I personally like the dings and scratches in our table at home. They remind me of 20 years of family dinners," Gat said. "But for those who want to return their table to perfection, it's as easy as refinishing."