Gat Creek Earns Product Stability UL Verified Designation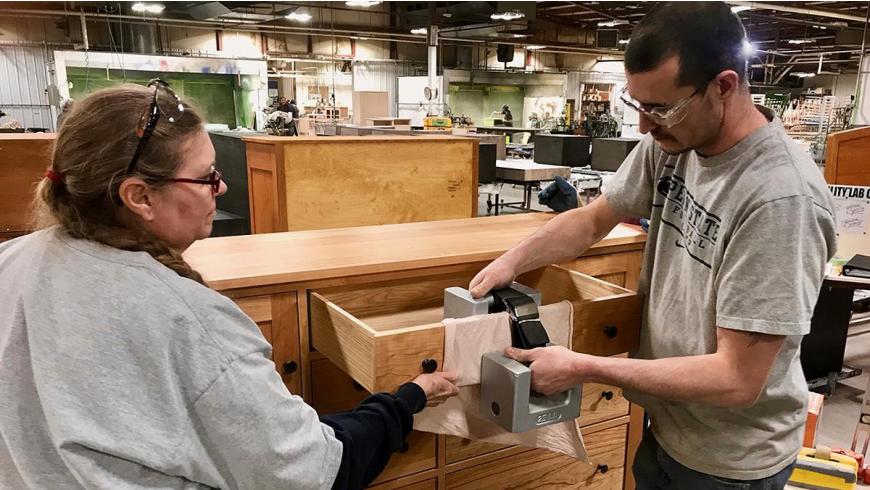 Gat Caperton doesn't mince words when it comes to safety: "It's who we are. Indoor air quality, the safety of our environment and sustainably managed forests, the health and safety of our workers and our community. Of course furniture stability is going to be important to us."
So important that the company has taken the voluntary steps and made the investment in on-site lab and testing processes to assure consumers that Gat Creek furniture is Product Stability Verified. The designation, developed by the American Home Furnishings Alliance (AHFA) and global safety science company UL, helps consumers identify products that meet its standard for tip-over safety.
These safety protocols require a significant investment of resources — dedicated test site, certified testing and measurement devices, training staff to perform the 30+ point checklists and properly capture and submit the data. Not every small company can or is willing to make the investment. That Gat Creek has speaks to the culture of the company.
"Meeting and talking with Gat, seeing the passion, seeing how the company has performed through this rigorous process just shows how seriously they take their customers' peace of mind," said Michael O'Hara, UL's director of global furniture. "And it is a serious issue. More than 17 million units were recalled last year, and a family of a 2-year old who died recently won a 46 million dollar judgment against Ikea."
Many can recall when the first news stories began appearing of serious injuries and deaths of small children due to furniture tip-over events. These tragic occurrences began to multiply with the arrival on the market of big screen televisions.
"These first big screens were, of course, still the cathode tube televisions; very heavy," Gat said. "And most often these TVs were placed on taller pieces of furniture, usually in the bedroom." Children being children, they would use the drawers to climb and their weight was enough to cause the tip-over with often disastrous consequences.
The tragic headlines compelled the furniture industry to examine its products. That analysis for the most part revealed domestic manufacturers were not the issue. The problems largely arose from lightweight, low quality, imported pieces. Building and quality standards simply were not observed. And, unfortunately, that often remains the case today.
"As far as furniture manufacturing in Asia, it's still free form and kind of the wild west," Gat said. "There may be awareness of the dangers but there isn't any sense of responsibility. And certainly no accountability if one of their pieces of furniture causes an injury."
For consumers, the stability program is a measure of comfort. Although it's still young, the initiative already has a searchable database on the UL website where consumers can find companies and products that have earned the Product Stability designation. "We're proud to have this on our site and the database is just going to grow deeper and deeper," O'Hara said. "We think it's an important service to consumers and for our partners like Gat Creek. We want to shine a light on their good work."