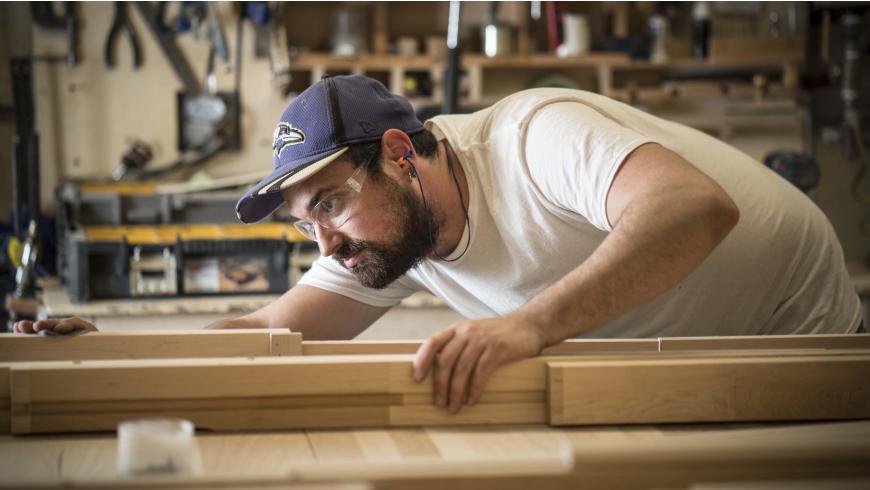 Chris Miller, Gat Creek Prototype Builder - A Perfect Fit
To say that Chris Miller was born to be a prototype builder at Gat Creek might be a stretch. But it is safe to say he is a natural for the job.
The Baltimore native comes from a family of makers. His father, uncles and both grandfathers made their livings in residential construction — renovations and additions — and Chris himself joined the family business soon after high school. "I wouldn't say I came into the family business kicking and screaming," Chris recalled, "but I did try a couple other careers before deciding they were not for me."
After a few years banging nails and attracted to the detail of finish work, Chris wanted to give cabinet shops a go and made his way into Amish country where he landed at a small shop. He laughs a little at the memory of not knowing what to expect owing to the Amish's reputation for simplicity. But what he discovered was a perfectly modern operation with electricity and up-to-date machines. He also found that the challenges and craft of cabinetry were right up his alley.
What was losing appeal, however, was returning to life in Baltimore. Chris's parents began a project to renovate a "cabin in the woods" in Berkeley Springs in 2015. His brother had followed them here the following year and found a job at Gat Creek. Always a tight-knit family, Chris was not far behind.
Today, almost three years later, Chris is responsible for turning ideas on paper into prototypes for Gat Creek's new product team and customers. "I get the drawings and have to mentally disassemble the piece to get a cut list, figure out the screws, the slides. Then I build it. If it goes as planned, we go into production and I teach everyone else how to build it."
The creativity and ever-changing demands make coming to work a joy; add to that the pride of seeing the finished pieces go to customers and knowing the value of what he helped create. "The thing that has always mattered most to me here is the sustainability of what we are doing. Knowing we are building furniture to last a lifetime and hand down to your kids. That's pretty cool."
Like a well-executed dovetail joint, Chris is a perfect fit for Gat Creek.